News & Resources
Don't Stop Dreamin' Blog & Event Archives
Don't Stop Dreamin', (a 501c3 non-profit organization) provides for the fulfillment of resident DREAMS in the Quality Life Services nursing, rehab and personal care homes throughout Western Pennsylvania and Three Rivers Hospice.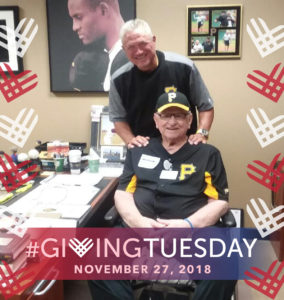 This year, on Tuesday, November 27, 2018, Don't Stop Dreamin' is participating in #GivingTuesday, a global day dedicated to giving that harnesses the collective power of individuals, communities and organizations to encourage philanthropy and celebrate generosity worldwide. #GivingTuesday is held annually on the Tuesday after Thanksgiving and the widely recognized shopping events Black Friday and Cyber Monday to kick-off the holiday giving season and inspire people to give back to the charities and causes they support. The splurge of those days creates the perfect condition.
You can help DREAMS come true and make a difference by supporting #GivingDREAMSDay. Sponsor a specific DREAM, contribute an in-kind service or donation or donate in honor or in memory of a loved one.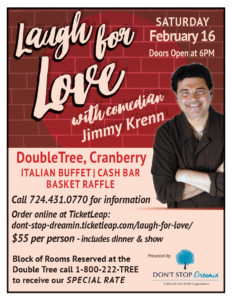 Laugh For Love is a comedy event that helps to make Dreams come true. On February 16, 2019, Don't Stop Dreamin' will host its 4th Annual Laugh For Love at the DoubleTree by Hilton Pittsburgh-Cranberry. Doors open at 6:00p.m. with a cash bar and the Italian Bistro Buffet begins at 6:45p.m. After an opening act the popular Pittsburgh personality Jimmy Krenn will entertain guests with his well-known comedy. An extensive raffle basket display will be offered for guests to peruse and help support Don't Stop Dreamin'.
Tickets are $55 and are available through Ticketleap (link below)
If you would like to help support Dreams in 2019 we offer various sponsorships for Laugh For Love. Please download our brochure here for more information.